You may have seen a Blog FAQ page before on someone's Blog, website or Customer service site or maybe you already have one on your blog.
FAQ Stands for "Frequently Asked Questions"
FAQ Page is one of the essential pages you should include on your blog or website. It saves time.
 It's so annoying to keep answering same question from your readers over and over again.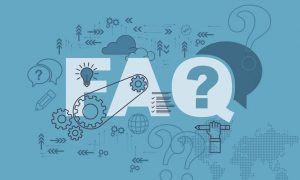 Frequently Asked Questions have been a very useful page to our daily blog visitors and in this post, I'm going to outline 10 FAQs that should be in your FAQ Page. But first;
What Is a FAQ Page?
A list of Questions and Answers, relating to a particular subject especially one giving basic information for users of a website.
One of the purposes of a FAQ Page is to address frequently asked questions about your blog, business or products. FAQ Page is different from About Page.
Benefit of FAQ Pages
       

Improve SEO and site Navigation

       

Delighting visitors by creatively answering their questions

       

Save readers time

       

Prevent your readers from contacting you always

       

Builds trust with your Audience
Frequently Asked Questions that should be on your FAQ Page
How did this Blog begin?
Here you explain properly how your blog started, maybe what you encountered starting up the blog or website, why you started the blog and your mission, vision and core values.
What is this blog all about?
In this section, you are to give detailed information about your blog, the topics you cover and it's advised to give a link to your "About Us" Page.
Can I write on this Blog?
Some of your visitors may want to write for you via guest posting or whatever medium, this section will let them know if you accept guest articles or not. If you do, you could link to your "Guest Post" or "Write for us" Page for details.
Can I advertise on this Blog?
Also, visitors may want to advertise on your blog. Your answers to this question will let them know if they can advertise and the kind of advertisement you accept and rate, you may as well link them to your "Advertise Page"
How do I contact you?
Your readers will always want to contact you to inquire or to ask personal questions. You can leave your contact information on this section or link them to your "Contact me" or "Contact us" Page.
What's your Location?
It's normal for your customers or readers to know the specific location from which you blog from. So they will know you're for real, so kindly state your correct location, address and if possible include your Zip/Postal Code.
Can I connect this blog on social media?
Do you know some of your blog visitors prefer to follow your blog on social media platforms than to follow your blog every day? Personally, when I discover a new blog to read I follow them on their social media platforms. That's one easiest way to know about their latest post. In this section, link to all social media channels you're part of. Make it easier for your readers to reach you.
How do I Get a blog like this?
A blog visitor may fall in love with your blog design and want to get a site like yours. You can link them to a blog post that talks about setting up a blog or website.
How do I get notified of new post?
In this section, kindly direct visitors on where and how to find your subscribe via email option or link them to it. You can as well link them to your social media channels.
Can I Join this Blog?
This section describes if you accept quest authors, permanent authors or contributors.
Of course there may be many other Frequently Asked Question for a standard FAQ Page, the above listed are really relevant and should be included.
Question: Do you have a FAQ Page on your Blog or Website?